The Young Sticky Fingers Chefs are in the news again!
Here's some of the latest 'buzz' of interesting and informative media coverage highlighting young chefs cooking-up lots of amazingly delicious fun with our talented and creative team of dedicated Sticky Fingers Cooking Chef Instructors.
Watch Chef Erin, Chef Jacqui and Amazing Young Chefs Althea & Vivian Cook-Up
Cool Colorado Melon Peach Poke Bowls + Steamed Rice on 7News in Denver:
Sticky Fingers Cooking was on 7 News in Denver: July 31, 2019! Click HERE TO WATCH! and Click HERE for the RECIPE!
Sticky Fingers Cooking was
featured in The Washington Post!
Click HERE for the ARTICLE: How to feed kids, without resorting to 'kid' food By Rachel Cernansky July 9, 2019
Watch Awesome Chef Dylan and Amazing Young Chefs Harper and Milo Cook-Up Delicious Fun on FOX31's Good Day Colorado!
Excellent Article on Why Kids Are 'Eating-Up' Sticky Fingers Cooking in Colorado Expressions Magazine!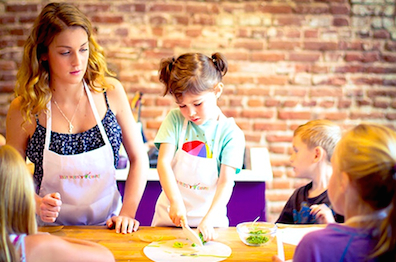 "Sticky Fingers instructs kids as young as two years old and as old as high school seniors. Programs include before- or after-school classes as well as cooking camps, birthday parties, or alternative child care at events such as weddings or family reunions. "Food is such an integral part of everybody's being, and preparing food together is a perfect way to create memories with families and friends," says (Food-Geek-In-Chief Erin) Fletter.
Sticky Fingers teaches kids to prepare healthful food; and what's more, each class includes side dishes of lessons in other academic subjects. Measuring ingredients, students learn fractions in a hands-on way. Preparing Mexican food, students will speak some Spanish. Making vegetable sushi, kids will study Japanese culture. "You can teach anything through cooking," Fletter says. "For each class, I create a 10-page lesson plan for chefs to follow. I incorporate safety, food knowledge, kitchen techniques, vocabulary, foreign languages, math, science, world geography and food facts about nutrition or food origin. Sticky Fingers is all inclusive and all encompassing."
http://www.coloradoexpression.com/featured-stories/sticky-fingers-cooking
Sticky Fingers Cooking awarded 5280 Magazine's TOP OF THE TOWN for BEST KID CLASSES in COLORADO!

Kids' Class
EDITOR'S CHOICE
STICKY FINGERS COOKING
July 2104 | 5280.com | Page 97
"In a world where too many children think dinner comes from a microwave or a drive-through, Sticky Fingers Cooking provides a welcome—and delicious—antidote.
This roaming cooking school (it sets up shop at elementary schools, birthday parties, and camps) teaches kids cooking basics such as knife skills and how to read a recipe. After preparing playful dishes in class (think fruit salad salsa, cinnamon-sugar tortillas, and cauliflower nuggets with tomato jam), children head home excited to show off their culinary prowess."
http://www.5280.com/tott2014/CultureAndNightlife/29007
WOW! WATCH CHICAGOLAND LEAD CHEF LUCY WARENSKI COOKING-UP COOL CORN AREPAS ON WGN NEWS!

Watch: http://wgntv.com/2014/05/28/lunchbreak-cool-corn-arepas-avocao-salsa-and-watermelon-agua-fresca/
Have a blast making this delicious Cool Corn Arepas+Awesome Avocado Salsa+Watermelon Agua Fresca recipe with your kids!

STICKY FINGERS ARRIVAL MAKES NEWS IN CHICAGO!

Sticky Fingers Cooking has arrived in Chicagoland! Now Chicago kids can also enjoy the fabulously fun + truly tasty Before, During + After school classes AND awesome Birthday Cooking Parties so many thousands of Colorado kids have learned to love!
Food-Geek-in-Chief Erin and Young Chef Siena had a blast cooking-up tasty Quinoa Pizza Bites for Good Day Chicago Host Corey McPherrin Live recently in the Fox32 Studio! The whole studio crew were all asking 'What smells so delicious?' -- and then right after the on-air Good Day show ended they all quickly gobbled-up the extra delicious Quinoa Pizza Bites!! Huge and heartfelt thanks to incredible 'Sous Chef-in-Training' Sienna Harper for being ready and willing to do such a terrific job on-camera!
COLRADO PARENT Magazine aritcle!
Teaching Kids to Cook and Enjoy Healthy Food
Erin Fletter of Sticky Fingers Cooking talks about the importance of healthy eating for children and how Sticky Fingers makes a difference.
---
"I am so passionate about Sticky Fingers and the way we are making a difference in children's lives, and all three of my kids are involved as my first testers on all my recipes." Fletter says. Currently Sticky Fingers Cooking offers about 75 classes per week in over 100 schools on the Front Range. Fletter is able—with the help of 27 chefs who work with her—to create lesson plans and recipes that she hopes will encourage kids to not only eat healthy foods, but actually crave and enjoy them."
http://coloradoparent.com/article/teaching-kids-to-cook-and-enjoy-healthy-food.html
Published: 03/25/2014 -- by Mindy Sink
Watch Young Sous Chef Vivian showing Food Geek-in-Chief Erin and Host Kim Posey how to mix-up tasty fun Live on Channel 2's Daybreak Show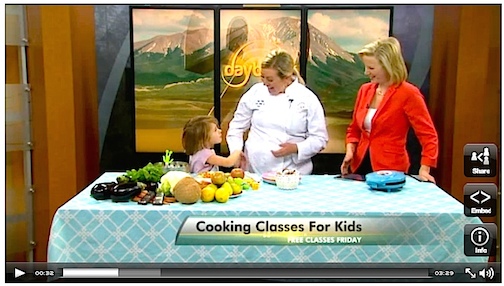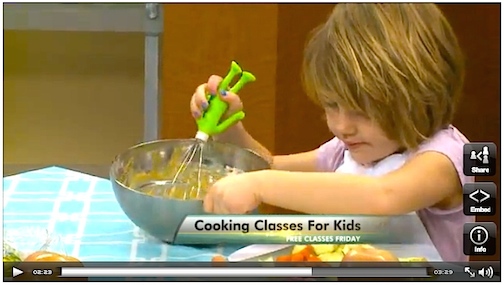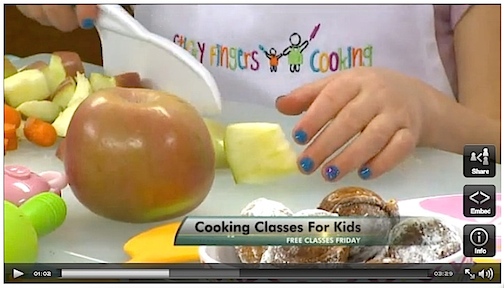 http://kwgn.com/2014/03/11/cooking-with-kids/
Live On-Air-Broadcast of Young Chef's Sticky Fingers Cooking Class on Fox31's Good Day Colorado!
Fox31's Good Day Colorado sent Dan Daru to cover for a 'live on air broadcast' of the four young chefs and Chef Brennan making super tasty Blueberry Lemon Ricotta Pancakes! Fun to watch!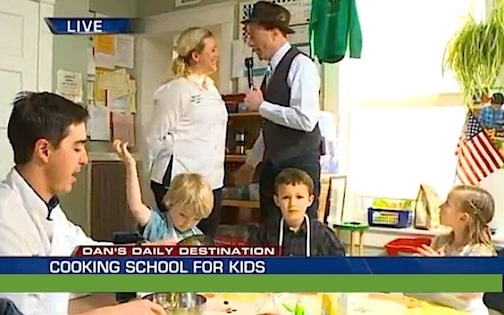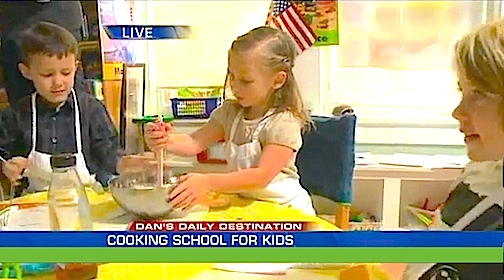 http://kdvr.com/2014/02/24/teaching-kids-culinary-skills/
Sticky Fingers Cooking class featured on Fox 31 News at 9!
Check out the exciting + tasty fun!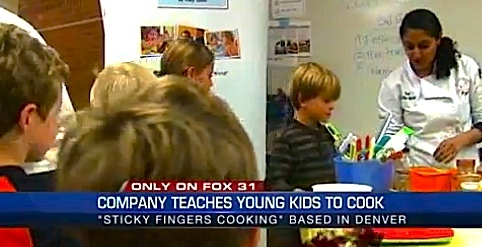 http://kdvr.com/2013/11/01/denver-program-teaches-kids-to-cook-become-jr-master-chefs/
If they make it—they can't wait to taste it! Sticky Fingers Cooking is honored to be the subject of news media coverage highlighting the creative energy of young students getting captivated and inspired as they master the super-fun + very tasty skills of making, eating sharing fresh, super-tasty, healthy, and sustainable foods.

Sticky Fingers Cooking chosen as "Top of the Town" by 5280 Magazine!
"There are few rewards richer than teaching your children to love cooking as much as you do. But the mess that ensues when a three-year-old measures flour or chops tomatoes is enough to make any parent rethink impromptu lessons. Enter Sticky Fingers, a cooking school where children ages two to 12 can whisk, julienne, and fold to their heart's content—in someone else's kitchen. Plus, when kids get involved in their food, they're more likely to eat it—spinach and all."
Sticky Fingers Cooking Kids on CBS Channel 4 News

Watch energetic young chefs as they have lots of fun prepare very tasty Sweet Potato Ratatouille:
Young Chefs Had Tasty Fun Making Mango Soba Noodle Salad on NBC Channel 9 News
Sticky Fingers Cooking and two young chefs helped 9 News Morning Show anchor whip up a batch of Soba Noodle Salad on December 22, 2009!
5280 Magazine Article
Pint-size Chefs
"Wielding a pint-size Day-Glo rolling pin, my three-year-old son Andrew rolls, presses, and pokes the squishy substance before him, in the gleeful way that preschoolers have of turning every activity into a full-body sport. Flour is everywhere, coating his blond hair, the counters, and the floor, yet nary a "no" is heard. That's the beauty of Sticky Fingers Cooking, a Denver-based cooking school aimed at the tiniest chefs. By the end of the morning, he'll have learned a technique or two, we'll go home with pizza for the family, and I can relax, knowing we'll leave the mess behind."
"For the past hour, six children have rolled out whole-wheat dough, measured herbs, spread tomato sauce, and sampled three kinds of cheese (mozzarella, goat cheese, and fontina), sometimes by the handful. They've squished olives, tasted artichoke hearts, tossed handfuls of spinach, and felt mushrooms. With all these toppings, it's no surprise that their pizzas are as heavy as they are. The surprise is that I've heard no whining. These children are beaming because they've made pizza all by themselves, and they've done so by piling on the dreaded V-word: vegetables.
COMMUNITY EVENTS:
Sticky Fingers Cooking at TEDx Youth@MileHigh
Sticky Fingers Cooking Chef Instructors had a blast making Super Garden Salsa and Smoothies with our Un-Recipes with about 2000 High School Kids at TEDx Youth@MileHigh! Letting kids get creative in the kitchen! Go TEDx YOUTH!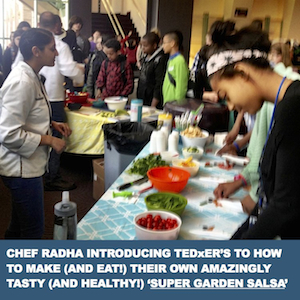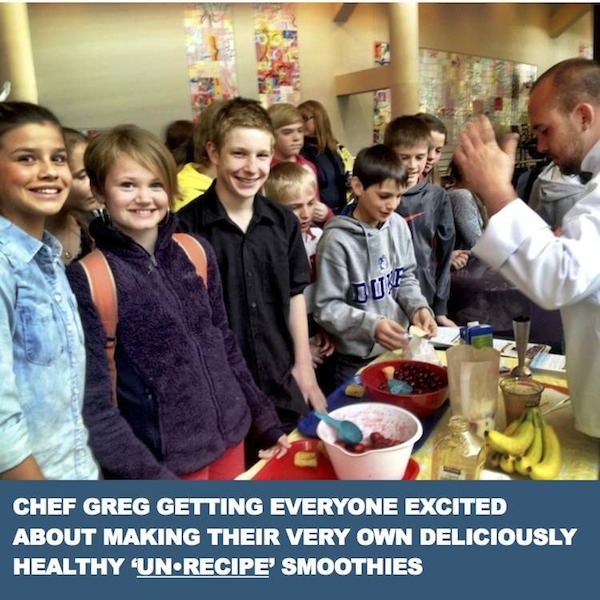 For the second year in a row, Sticky Fingers Cooking partnered with the Colorado Avalanche to offer a children from a local Boys & Girls Club the chance to cook up a nutritious, seasonal snack. Two enthusiastic Avalanche players and Avalanche Strength & Conditioning Coach Paul Goldberg donned Sticky Fingers aprons and pitched in at the event, hosted by lthe acclaimed ocal Highlands hotspot Duo Restaurant.
Please check back for the latest Sticky Fingers events.